Casey Sindi Square-Jouberton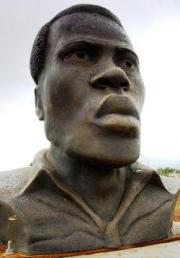 The square features the statue of one of the struggle icons of Jouberton,
Casey Sindi who went into exile during the struggle and killed in combat in Angola during 1988 The statue is situated in Jouberton, one of the biggest townships in the City Of Matlosana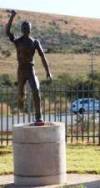 Mfana Majova Square-Khuma
Visit the unique statue of Mfana Majova who was a commander in the camps of MK in Angola during the struggle years.

The statue can be found in the township near Silfontein well known as Khuma.
Delekile Khoza
The statue commemorades the people from Tigane who had paid the price for freedom from apartheid Delekile Khoza was one of the freedom fighters. The square is situated at the main entrance of Tigane township.
Tumelo Lekoto- Kanana
During the 1980 s several marches took place against Bantu education were also organised in the streets of Kanana.
Often this resulted in running battles between Former South African Police and young people.
The lifeless body of a teenage boy was found where he had fallen a victim of violence that was part of south African society during the 1980's.
A statue depicting young Tumelo Lekoto, on his way to school with his school satchel over his shoulder. This statue forms a fatal point of the Tumelo lekoto freedom square, located adjacent to the Kanana Library.